FILIPINA WOMEN'S NETWORK HAS JOINED WITH #GIVINGTUESDAY'S GLOBAL MOVEMENT TO CREATE A CULTURE OF GIVING WORLDWIDE AND WITHIN FWN

On November 28, GIVE BACK. GIVE WELL. GIVE #GLOBALPINAYPOWER.
NOVEMBER 28 #GIVINGTUESDAY IS OUR DAY OF GIVING TO FILIPINA WOMEN'S NETWORK.
to fund FWN's IMPACT projects: CHOOSE BELOW.
Donations are tax deductible to the extent allowed by law. 501(c)(3) Tax ID #47-3513297.
why give?
AT FWN, WE THRIVE BECAUSE OF OUR ORGANIZATIONAL PURPOSE and meaning. WE EXIST TO AMPLIFY FILIPINA WOMEN'S VOICES WORLDWIDE
REASONS TO GIVE:
1) FWN PURPOSE:
1962: President Kennedy was visiting NASA. He runs into a janitor. The President asks the guy what he's doing. The janitor replies, "Helping put a man on the moon."
That's purpose. The janitor didn't say "emptying trash cans". He said, "Helping put a man on the moon"
2) MEANING:
1998: FWN Founder Marily Mondejar: "A successful career requires a constituency and a support network."
"As a volunteer in a political campaign, I was unwittingly participating in derailing a rising Filipina executive's career to get to her boss, the incumbent elected official. I watched her career decline and soon she resigned. Where is the Filipino American community? Where are the women? The Filipina women? Who is advising here? Why is she not responding to the media frenzy?
This was a learning moment. It also firmed up for me the need for having a network of support. Your own advisory board. A sisterhood. The men have known this for years: the old boys network is there for the bro."
What groups do you belong to?
"I'm lucky to belong to a group of awesome Filipina women across continents. We connect via technology, MeetUps and our annual gathering at the Filipina Summit. These women feed my soul," added Marily Mondejar.
Quickest way to add meaning to your life is to join a group and connect more often. Not part of a group? Join FWN. No groups to join? Start one. It's as easy as texting people to get together regularly around a common interest.
Credits:
DISRUPT. Filipina Women: Proud. Loud. Leading Without A Doubt. Three events that shaped the direction of FWN, Marily Mondejar (2015) pp 11-15. Amazon: http://amzn.to/1AybRbV
4 Ways to Find More Meaning in Life, TIME, Eric Barker (2016) http://ti.me/2eRkaLE
Every program at FWN has purpose and meaning. your support benefits the filipina women of the diaspora
CHOOSE A PROGRAM YOU'D LIKE TO Sponsor TO AMPLIFY FILIPINA WOMEN VOICES WORLDWIDE.
 
"We are often represented as minor characters, even in our own narratives. We seldom see ourselves represented on the screen in a lead role. I hope to be impactful by changing those expectations and bringing our experiences to a global, mainstream audience. The best part of being a Filipina woman leader is 'upending expectations and stereotypes'. Being a woman in the film industry is challenging enough. Being a woman of color in the film industry is a double whammy. Every day is about making myself visible and heard."
BUY A BOOK. GIVE A BOOK.
FWN publications
Raise our voices and harness the power of our stories
#GIVINGBOOKSDAY
$208 will benefit a school's library of your choice to receive the two leadership books published by fwn.
2 books for you. 2 books for a school:
DISRUPT. FILIPINA WOMEN: PROUD. LOUD. LEADING WITHOUT A DOUBT.

DISRUPT 2.0. filipina women: daring to lead.
 
DISRUPTing book readings have been held in Cebu, Manila, San Francisco, San Diego, Houston, Beverly Hills, San Jose, New York, Toronto, and Vancouver. Our next DISRUPTing book reading will be held in London (November 28).

Your name will be acknowledged on the Supporters Page.

Find out why FWN publishes the Filipina Women Leadership Book Series
#GIVINGBOOKSDAY
$48 SUPPORTS FWN'S
Filipina Leadership Book Series thru #Givingbooksday

Your $48 donation will spread the gift of #GlobalPinayPower inspiration to a young Pinay with a copy of the DISRUPT 2.0: Filipina Women: Daring to Lead for #GivingBooksDay.

To make the gift extra special, we'll enclose a custom bookmark with YOUR name in your honor. Includes shipping & handling.

OR gift 20 copies of DISRUPT 2.0: Filipina Women: Daring to Lead to a school in your community for $888. Includes shipping and handling within the continental U.S.
Insular Life donated 50 books to the students of Asian Institute of Management, Manila, Philippines

Our Lady of Fatima University donated 50 books to the students of University of Cebu, Philippines

Anita Borg Institute donated 25 books to the young Filipina women who attended the Grace Hopper Conference in Houston, Texas.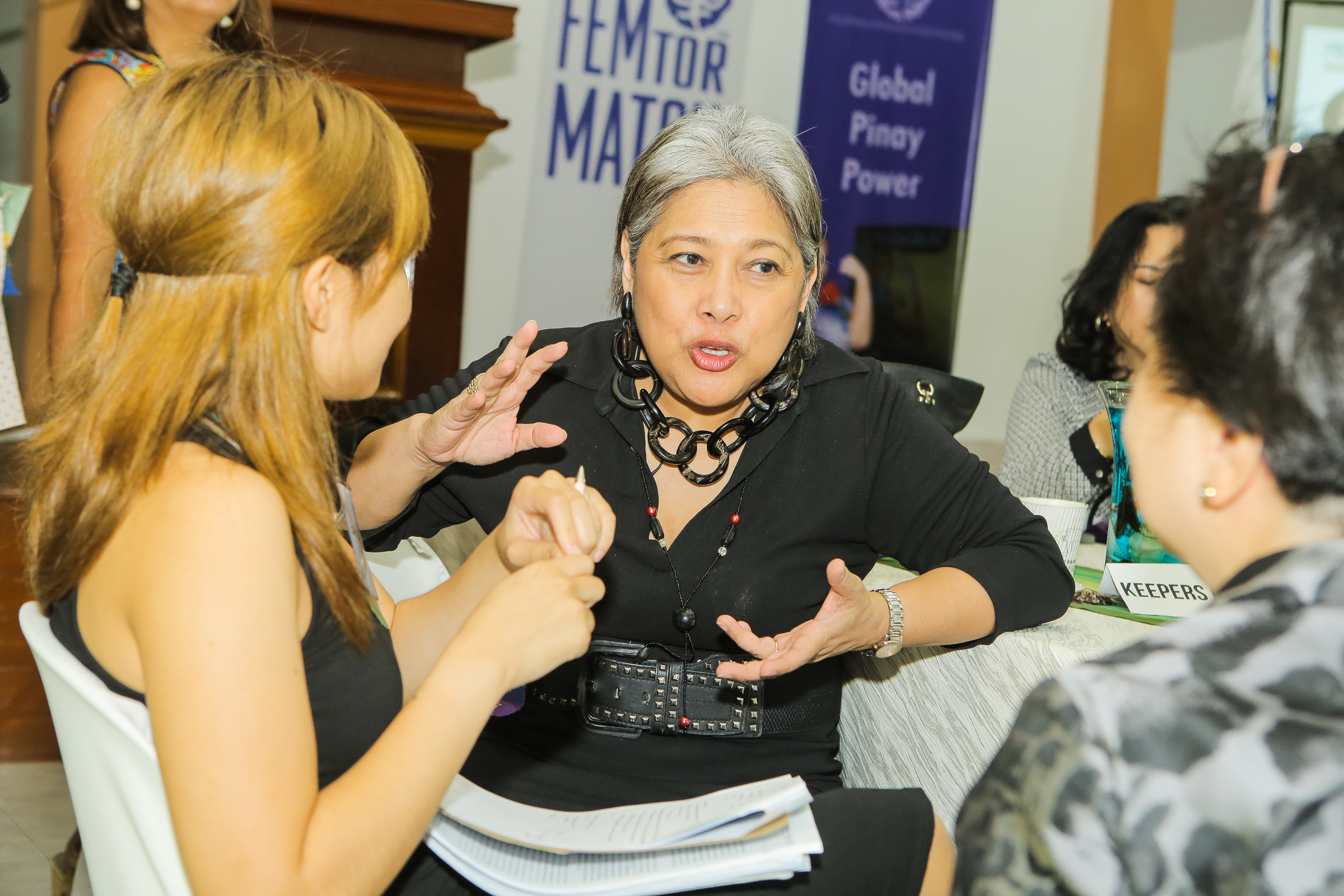 Your $98 donation supports FWN's FEMtorMatch program and helps send Francine Maigue (Global FWN100™ '15), the Face of Global Pinay Power, all over the world as she embarks on the #GlobalPinayPower Roadshow to empower Filipinas everywhere.

A Harvard graduate and as an emerging influential leader, Francine is passionate about engaging and empowering underrepresented communities, especially her fellow Filipina sisters. She is committed to encouraging Filipina women explore their leadership potential and pursue their professional goals with the respect and equitable opportunities they deserve, locally and globally.

Learn more about the Global Pinay Power Campaign and Francine here
Give Back. Give well. Give Filipina.
 
any amount you give will benefit the advancement of filipina women worldwide.

click here to find out if your company can match your donation.
 
filipina women against violence
$68 SupportS FWN's anti-violence campaign: Women of Color United Against Violence
Your $68 donation will help to offset publishing and distribution costs of FWN's V-Diaries Anti-Violence Resource Guide

FWN's Filipinas Against Violence campaign was launched in 2003 due to a lack of a specific agency or organization that is geared to the needs and cultural considerations of Filipina women and girls in violent situations and in response to the unsolved murder of 28-year old Filipina woman, Claire Joyce Tempongko, who was murdered in front of her two young children. His murder was successfully prosecuted by Assistant District Attorney Liz Aguilar Tarchi in 2010 after the Supreme Court confirmed his conviction.

Your name will be acknowledged on the Supporters Page.
$718 Sponsors a Young Filipina to attend the next FWN filipina leadership Global Summit

Your $718 donation will pay for one Young Pinay's All-Access Summit Pass to the 15th Filipina Leadership Global Summit in London, UK (October 18-21, 2017).

The All-Access Summit Pass includes access to three full days of invaluable sessions, workshops, learning journeys and networking opportunities. Your name will be acknowledged on the Supporters Page.

With YOUR help, FWN sent Leira Mae Digma of Chula Vista, California to Cebu, Philippines for the four-day long #FWNSummit2016. Read about her experience of FEMtorship and Pinay empowerment at the summit here.
$188 SUPPORTS E-PAHAYAGAN, FWN'S WEEKLY NEWSLETTER FOR ONE MONTH
 
Your $188 donation will help fund the cost of publication of FWN's weekly online newsletter and blog, ePahayagan for one month.

ePahayagan is a platform for news, current events, feature stories and opportunities that highlight and/or affect Filipina women all over the world.

Your name will be acknowledged on the ePahayagan masthead.
Reach over 10,000 list members worldwide.

 
$108 SUPPORTS THE FELLOWSHIP PROGRAM FUND
Your $108 donation will go towards the Fellowship Program, designed to provide young professionals, recent graduates, returning-to-the-workplace career women and motivated individuals seeking to enhance their work experience and portfolios through involvement with the Filipina Women's Network (FWN).

This is an opportunity for increased learning of the programs and initiatives to advocate the activities, careers, and status of Filipina women all over the world. Your name will be acknowledged on the Supporters Page.
Leah was the first Fellow of the Filipina Women's Network. Leah ended her FWN fellowship with honors when she received the 2012 Monach Award from PAAWBAC (Pacific Asian American Women Bay Area Coalition) for her outstanding work.
Rebecca graduated Magna Cum Laude at Notre Dame de Namur University with a double major in English & Fine Arts in 2012. She was FWN's 2012-2013 Fellow and is now with the Office of Economic and Workforce Development at the City and County of San Francisco.
Raissa is a visual arts industry professional based in Toronto, Canada. In 2012, she served as the Associate Director of the Douglas Udell Gallery Vancouver. In addition to her role as FWN Fellow, she is also an independent Visual Artist Advocate and Consultant.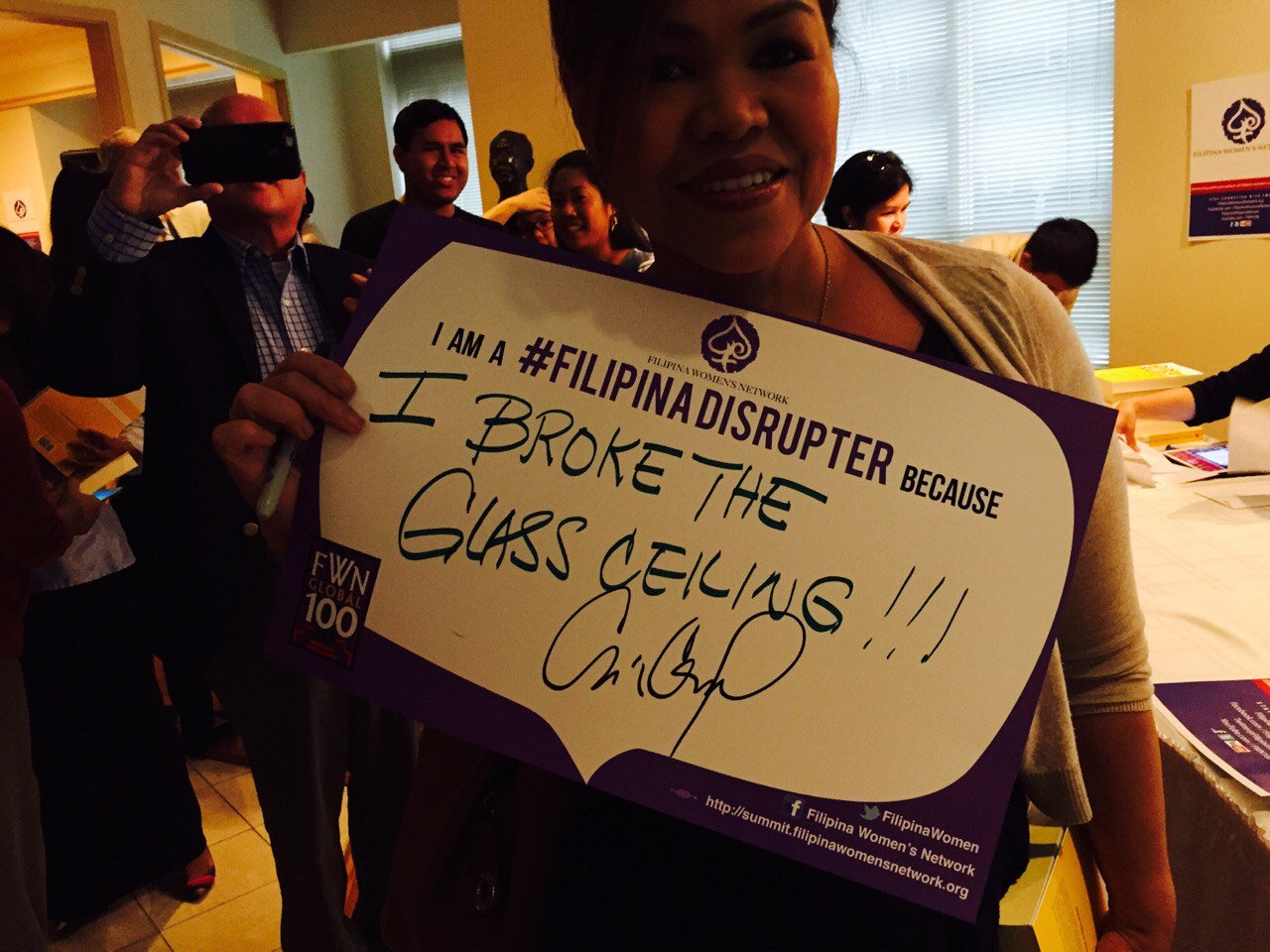 WE ARE FILIPINA WOMEN.
WE ARE THE FILIPINA WOMEN'S NETWORK.
 
Make an incredible difference in the life and economic opportunities of Filipina women!
Disrupt stereotypes. Encourage Filipina women to raise their voice and get heard!
Empower Filipina women to rise against violence. Pave the way for Filipina leadership worldwide!
Make an impact on your community and the lives of those back home today.

Donations are tax deductible to the extent allowed by law. 501(c)(3) Tax ID #47-3513297.
Thank you to our #GivingTuesday Donors!
TESTIMONIALS FROM SFNEWSFEED.US:
"Dream Big! That's all I can say. I've learned a lot. I never imagined that I'll be involved in FWN and with influential people, it's unbelievable...."
"It's always inspiring. I was on the Summit Steering Committee that put the #FWNSummit2015 together, which takes a lot of hard work, but it's worth it! I always leave satisified and rewarded. It always renews me and leaves me inspired..."
"It's amazing to be among powerful Pinay leaders. I did my best to maximize this [Filipina Summit] experience of a lifetime!"
"I just learned that I'm not alone in the adventure of leading Filipina women to become leaders, now and in the future..."
 
When I received the email from Gloria Caoile to apply for this nomination, I did not realize how much FWN would affect change in my own day-to-day life. As a musician and composer working in the entertainment industry, I can tell you from 14 years of experience, that Hollywood does not deal well with sexism, ageism, and racism for fear of economic or socioeconomic reprisal. Hollywood's biggest stars including Jennifer Lawrence, Sandra Bullock, Julia Roberts, and Angelina Jolie have criticized the entertainment industry for its gender- based economic inequity. SAG, the Screen Actors Guild, has addressed this issue of female ageism by giving its members "transitioning classes" for actresses that are hitting the ripe age of 30. It's not only sexism and ageism that plague Hollywood. The industry's struggles for ethnic diversity, unfortunately, still include Asian caricatures of the "dragon lady," "the submissive doll" or the "nerdy friend." This sexist, ageist, and racist status quo permeates every sector of entertainment. Affecting change as an Asian American female composer thus is a deeply personal question.

WATCH or read Melissa's Leadership Keynote from #FWNSummit2015